Peter Clarke and his family started G2P Leather five years ago with a straightforward goal to provide long lasting quality leather goods, and empower people not machines. Their leather designs are timeless classics made to withstand years and years of use resulting from the use of high quality vegetable leather as well as genuine leather to create their gorgeous accessories. G2Pleather's commitment to customer satisfaction is very apparent by the many choices they offer for personal customization.  Different color leathers, stitching and lettering, all made to order, to each customer's preferences.
We were not surprised to see they had excellent results using Shoppost to drive in sales to the G2P Leather Etsy store. We were curious to learn more about G2Pleather and what struggles and successes they have faced to get their amazing leather products to market.
What or who inspired you to create leather accessories and start your own family business?
We started just selling leather belts in our local shopping mall in Bangkok. Then people asked us to make small leather items or repair bags and belts. We started to grow quickly and we learned by trial and error. We got a lot of information from websites and You Tube.
What were your biggest struggles when you were first starting out versus now?
Our biggest obstacles were making patterns and finding tools and accessories and choosing leather. It takes time and skill to make each piece. Lately, I have seen leather goods being sold online for a fraction of the price because the product is inferior and poorly made. I wish people would take pride in their work and not bring down the price and reputation of other leather crafters.
What drives the majority of your sales? Craft shows? Etsy? Social Media?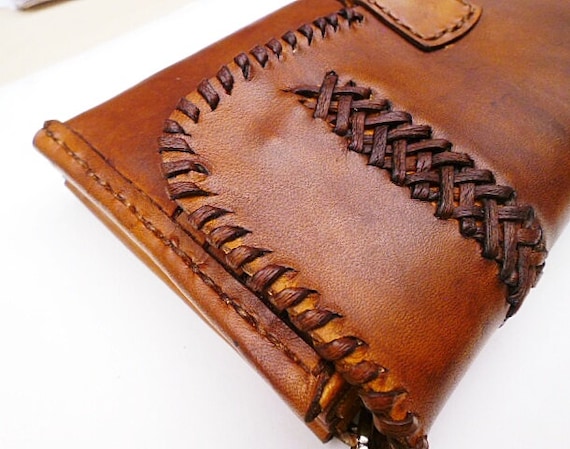 Most sales come from Etsy and links from our Facebook and our blog. But as the internet changes quickly we are experiencing a new influx of followers from Instagram.
What made you want to try Shoppost for the first time?
We wanted to upgrade our marketing and we are always looking for new ways to find customers. Search engines keep changing the way they find your information. Shoppost seemed like a great way to drive more traffic.
After creating many Shopposts and sharing them to your social networks; what did you see from your analytics? Views? Shares? Buy Referrals?
We saw 690 total views, 24 shares from Facebook and 10 buy referrals. The countries and hits vary day by day.
What benefits did you see from using Shoppost versus just posting a picture with a link to your store?
The hits directed to our Etsy shop increased. I was able to learn more about which social platforms were driving traffic to my shop.
What advice would you give another merchant that is trying to grow their social following and promote their brand?
High quality pictures and great descriptions are the most important things, then the price. If you're priced too high or low people will not buy. Shoppost helped me accomplish all those things in one post. I can use multiple pictures, fit in a description and show the price all inside one post.